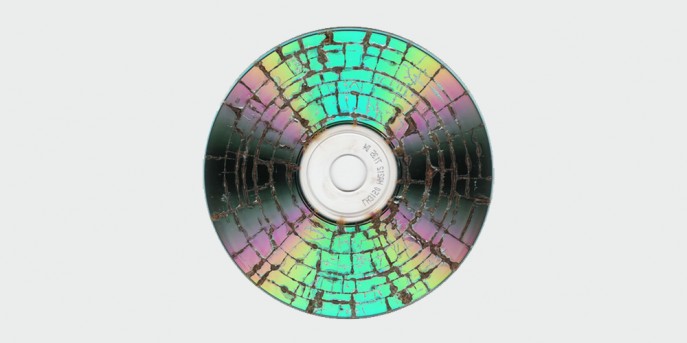 Nicolas Lobo
Gum, dropped
Marlborough Chelsea
545 West 25th Street
New York, NY 10001
December 15, 2011 – January 14, 2012
Lobo's practice is one of variance and ambition, both conceptually and technically. He has consistently attempted to materialize the invisible while allowing his specific agenda to determine the media. In Grape Syrup Action for Paul Octavian Nasca's "U Smile 800% Slower," 2011, Lobo has created an accompanying video for a track that oddly became a Youtube sensation despite existing only as audio. The song in question – Nasca's super slowed-down version of Justin Bieber's "U Smile" – blares indiscernibly like an ominous Gregorian chant, while a masked figure in a white Hazmat suit sprays gallons of grape cough syrup onto a white wall. Disjointed ambiguity pervades the work as the identities of the sound, the liquid and the figure remain concealed throughout the video's mesmerizing fourteen minutes and thirty-seven seconds.
In the series Microwaved CD Pen Tests, 2011, the artist uses the lasers of a light jet machine to expose photo paper in the red, green, blue and black spectrum normally emitted to produce life-like photographic color. The exception to the pure color are images of CDs, briefly microwaved, providing a prismatic counterpoint, splitting the mechanical light into rainbow hues. On this backdrop the artist renders intuitive, gestural markings which appear akin to those of Gottlieb, Marden or Twombly. The result is an Arcimboldo-esque composition that evokes representational portraiture, but whose components are wholly abstract.
Elements of audio detritus and distorted vocal deviances are also evident in slabs of granite and marble leaned casually against the gallery wall. Each slab features the telephone number from various phone sex hotlines watercut into it, achieving a degree of permanence that is otherwise foreign to a medium and industry facing rapid obsolescence in the face of the internet's total absorption of sexual fetishism.
In Glideslope, 2008, the standard descent ratio for landing an aircraft (three degrees to the horizon), is made manifest in an imposing eight-foot terrazzo cast. Normally a disembodied wire-frame graphic used to assist the pilot, in Lobo's hands the glideslope becomes a tangible representation of a frequently traveled immaterial space whose hollow-core existence was previously relegated to two-dimensional charts and its practical application.
Gum, dropped will be on view through January 14th. A digital catalogue will accompany the exhibition.
Interview with Andrew and Andrew on East Village Radio | Radio Payer